Sarah Blakely has raised over £1800 for King's Arms Project by climbing the height of Everest 8,848.86 metres, using stairs across Bedford.
Sarah took up the New Year challenge set by her friend in 2021, during lockdown. Her final steps were completed on the evening of Tuesday 2nd August at Albero Lounge, Bedford.
"It was the perfect way to complete my challenge with friends and colleagues cheering me on. As I climbed Albero Lounge stairs I thought about all the steps King's Arms Project clients take – the mountains they have to climb to live independently."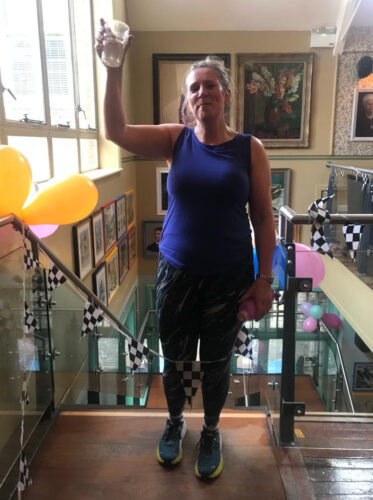 Sarah, what did you learn from completing this challenge?
"The amazing financial generosity of family and friends, the challenge of having made a public commitment to do something and sticking with this, through cold weather and the heat, the satisfaction of completing a physical challenge."
It's a big commitment, what kept you going to the end?
"I enjoyed the personal satisfaction of completing a physical challenge. Also seeing the donations coming in and knowing the difference that this would make to King's Arms Project clients. I have the refugees we support in mind, thinking of the miles they have travelled to get here, then the challenges they seek every day. The support from family and friends has been amazing, thank you!"
Expressing how she felt now she had completed the challenge, Sarah said: "I feel gobsmacked that I have done it! Also, if you break a challenge into bite-size pieces (steps in my case!), it's possible."
Sarah went on to say, "If you are considering fundraising for the King's Arms Project, I would wholeheartedly encourage you to do so. They have great wisdom on how to go about publicising your challenge and help to make the process easy. So have a chat with Stuart McCaw or visit kingsarmsproject.org."
Do you have a talent you think could help raise money? Find out more about how to fundraise for the charity.